High School Programs
The High School Division is for students ages 14 to 18.
New for Summer 2021, there are eleven programs of study available: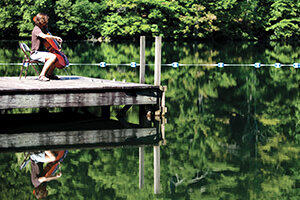 High School students:
receive weekly private lessons from Brevard's artist faculty
may take classes in music theory and literature
may perform solo and chamber music in Brevard's student recitals
may participate in masterclasses
may attend open rehearsals with world-renowned concert soloists
may attend on-campus orchestra, chamber, solo, and opera performances
Programs in the High School Division range from two weeks to four weeks. Students in the High School Division will encounter older students at concerts, in studio and masterclasses, and in the cafeteria, providing valuable opportunities for guidance and mentorship. However, high school students have their own ensembles, their own residences, their own campus life system, and their own social activities.
---
A Brief Introduction
Who comes to Brevard?
Students come from nearly every state and in fact, from around the world. Their backgrounds are different, but all are gifted and driven to musical excellence. Each student contributes to the unique community that is the hallmark of Brevard. The environment allows students to surpass themselves as musicians, as artists.
How can I participate?
To apply to Brevard, you must:
be at least 14 years old by the start date of your program
pay the application fee (non-refundable)
submit an audition
Audition requirements vary by program. Applications and auditions must be complete by the posted deadline. (Applications remain open until enrollment is complete.)
What does it cost?
Tuition varies by program type and length. The Jazz Institute is $1500, two-week seminars are $2500, and four-week programs are $5000. Tuition is an all-inclusive fee. There are no extra fees for private lessons, food service, concert admission, or access to on-campus health services.
Does Brevard offer scholarships?
Yes. Brevard offers scholarship support according to a student's audition and demonstrated financial need, and program need. In 2019, Brevard provided scholarship support to more than 70% of its students.
Scholarships from Brevard come in two forms:
Merit awards based on the student's audition
Work-study awards based on financial need
Requesting financial aid is simple – it's part of Brevard's online application process.