High School Program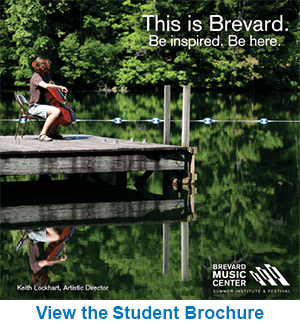 June 21 - August 5, 2018
Each year the High School division enrolls approximately 190 students, ages 14 to 18.
Five programs of study are available:
All High School students:
receive weekly private lessons from Brevard's artist faculty
take classes in music theory and literature
may perform solo and chamber music in Brevard's student recitals
may participate in masterclasses
may attend open rehearsals with world-renowned concert soloists
may attend nearly 80 orchestra, chamber, solo, and opera performances
For most students in the High School Division the full term of study runs six weeks. Pianists and Classical Guitarists may attend for either the full session (six weeks) or a half session (three weeks). High School Voice students participate in three-week sessions.
---
A Brief Introduction
Who comes to Brevard?
Students come from nearly every state and in fact, from around the world. Their backgrounds are different, but all are gifted and driven to musical excellence. Each student contributes to the unique community that is the hallmark of Brevard. The environment allows students to surpass themselves as musicians, as artists.
How can I participate?
To apply to Brevard 2018, you must:
be at least 14 years old on June 21, 2018 (for the High School Division)
fill out an online application
submit the application fee ($75, non-refundable)
submit an audition
Audition requirements vary by program. Auditions may be uploaded directly to the Brevard Music Center or posted on YouTube.
Students in the Piano or Classical Guitar program may attend for the full six weeks or may attend for three weeks – the first or second session.
Students in the Voice program attend for three weeks – the first or second session.
Applications and auditions must be complete by February 16, 2018. (Applications remain open until enrollment is complete.)
What does it cost?
Tuition is $6950 for Brevard 2018. This is an all-inclusive fee. There are no extra fees for private lessons, food service, concert admission, or access to on-campus health services. The cost for Piano, Voice, and Classical Guitar students who attend for three weeks is $3850.
Does Brevard offer scholarships?
Yes, Brevard provides some scholarship support to more than 70% of its students.
Scholarships from Brevard come in two forms:
Merit awards based on the student's audition
Work-study awards based on financial need
Scholarships are based on merit, financial need, and program need.
Requesting financial aid is simple – it's part of Brevard's online application process.
---
2018 Season Highlights
Orchestra
BACH Brandenburg Concertos No. 3 and 4
BARTÓK Concerto for Orchestra
BEETHOVEN Pastoral Symphony
BENDIX-BALGLEY Fidl-Fantazy
BERG Violin Concerto
BERNSTEIN Age of Anxiety
BERNSTEIN Chichester Psalms
BERNSTEIN Mass
BERNSTEIN On the Waterfront
BERNSTEIN West Side Story (film with live orchestra)
BRAHMS Double Concerto for Violin and Cello
BRAHMS Symphony No. 2
ELGAR Enigma Variations
HOLST The Planets
MAHLER Adagio from Symphony No. 10
MIKE MILLS (R.E.M) Concerto for Violin and Rock Band
MUSSORGSKY Pictures at an Exhibition
RACHMANINOFF Piano Concerto No. 2
RESPIGHI Pines of Rome
SCHUMANN Piano Concerto
STRAUSS Also sprach Zarathustra
SUK Serenade
TCHAIKOVSKY 1812 Overture
TCHAIKOVSKY Serenade for Strings
TCHAIKOVSKY Symphony No. 4
VIVALDI Guitar Concerto in D major
Special multi-media concert: "Bernstein the Educator"
Opera
BERNSTEIN Candide
PUCCINI Madama Butterfly
ROSSINI La Cenerentola
---
2018 Conductors
Keith Lockhart • JoAnn Falletta • Matthias Bamert • Rune Bergmann • Daniel Hege • Sebastian Lang-Lessing • Ken Lam • Craig Kier • Michael Sakir • Kraig Alan Williams
---
2018 Soloists / Ensembles
Noah Bendix-Balgley (Violin) • Annelle Gregory (Violin) • Narek Hakhnazaryan (Cello) • Olga Kern (Piano) • Dasol Kim (Piano) • Sergey Khachatryan (Violin) • Norman Krieger (Piano) • Robert McDuffie (Violin) • Yekwon Sunwoo (Piano) • Itamar Zorman (Violin) • Shanghai String Quartet • Sō Percussion • Time for Three