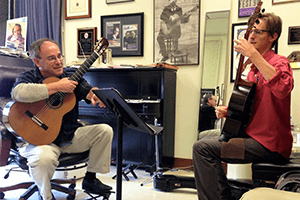 Adult Classical Guitar Workshop @ Brevard
For Guitarists 30 and up!
Space is Limited. Register Today!
June 8 – June 13, 2020
Brevard Music Center is pleased to invite you to the 2020 Adult Classical Guitar Workshop @ Brevard. Come to Brevard to be a classical guitarist for the week! Under the direction of Professor Adam Holzman, Brevard's Adult Classical Guitar Workshop is a comprehensive 5-day course of study offering private lessons, masterclasses, and ensemble playing for guitarists age 30 and up.
---
The Program
Each participant will have multiple opportunities to perform in private lessons, masterclasses, and ensemble training. Instruction will be geared to the level and specificity of the participant.
Areas of focus and program features will be:
Interpretation
Technique
Guitar ensemble
Sound production
Question and answer sessions
Faculty / Guest Artist Recitals
Final culminating class recital
Participants will be encouraged to be a part of world-class activities happening on campus every day.
---
Faculty
---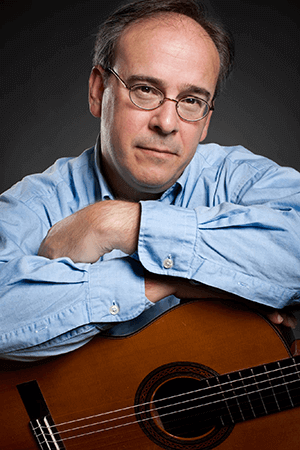 Adam Holzman, Director
Adam Holzman, international performing and recording artist, is hailed as "...polished and quite dazzling," by The New York Times, "...brilliant!," by De Gelderlander, Holland, and "...masterful!," by The Toronto Star. Five times he has been a winner in major international competitions.
Mr. Holzman has performed at the prestigious Concertgebouw in Amsterdam, distinguished New York venues such as Kaufman Hall at the 92nd St. Y, Merkin Hall, and Carnegie Recital Hall, as well as in music festivals and series from Miami to San Francisco, Boston to New Orleans. His extensive international performances have taken him throughout Europe, Canada, Mexico, Central and Latin America.
Mr. Holzman's commitment to new music has led him to co-commission Samuel Adler's first Concerto for Guitar and Orchestra. He has also premiered works by composers Robert Helps, Roland Dyens, and Stephen Funk Pearson among others.
Adam Holzman is founder of the Guitar Department at the University of Texas at Austin's Butler School of Music where, in addition to his active performing career, he heads a thriving guitar studio. His students have won an array of international prizes. From 1992-1994 Mr. Holzman held the title of "Maestro Extraordinario" given by the Universidad Autonoma de Nuevo Leon, Monterrey, Mexico, where he served as artist-in-residence. He was awarded the Ernst von Dohnanyi Prize for Outstanding Achievement from Florida State University and has been named The Parker C. Fielder Regents Fellow in Music at the University of Texas at Austin. Mr. Holzman has been featured on the covers of both Classical Guitar Magazine and Guitart Magazine.
Mr. Holzman's performance studies were with Bruce Holzman at Florida State University, Albert Valdes Blain, Eliot Fisk and Oscar Ghiglia. He was chosen twice to perform in the historic Master classes of the legendary Andres Segovia.
Adam Holzman performs on D'addario strings and resides in Austin, Texas with his wife Carolyn and their son Benjamin.
---
The remaining faculty for the 2020 Adult Classical Guitar Workshop @ Brevard will be announced soon.
---
Typical Daily Schedule
7:00 a.m. - 9:00 a.m.
Breakfast
9:00 a.m. - 10:00 a.m.
Practice time
10:00 a.m. - 12:00 p.m.
Small group private lessons (Monday / Wednesday / Friday)
Techniques and seminar classes (Tuesday / Thursday)
12:00 p.m. - 1:30 p.m.
Lunch
1:00 p.m. - 2:30 p.m.
Individual practice time
2:30 p.m. - 5:00 p.m.
Masterclasses (solo and ensemble literature)
5:00 p.m. - 7:00 p.m.
Dinner
Evenings
Concerts, ensemble rehearsals or social gatherings
---
Fees and Payment Schedule
The cost for the Adult Classical Guitar Workshop @ Brevard is $1400 per person. This includes tuition, housing, meals, and tickets to all concerts. Each participant is responsible for travel to and from Brevard.
A non-refundable registration deposit of $500 will be charged at the time of your online registration. The tuition balance is due by May 1, 2020.
---
Refunds
All payments, except the $500 registration deposit, will be fully refunded if the Center receives notice of cancellation before May 1, 2020.
No reduction in fees can be made for late arrival or early departure.
No refund for any reason will be made after May 1, 2020.
---
Payment
Payment can be made online or you can mail a check to the address below.
If you mail a check, please make the check out to "Brevard Music Center."
Be sure to write "Guitar Workshop" and the full name of the participant in the memo field.
Mail check to:
Brevard Music Center
ATTN: Guitar Workshop
P.O. Box 312
Brevard, NC 28712
---