Michael Kemp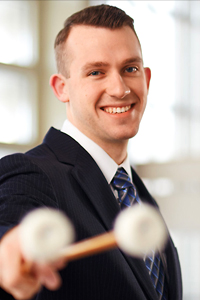 Michael Kemp, a native of Rochester, New York, was appointed principal timpanist of the Winnipeg Symphony Orchestra in 2015. Prior to this, he served as the principal timpanist of the Erie Philharmonic in Erie, PA.
As a guest timpanist, Michael has appeared with many orchestras including the San Francisco Symphony, Pittsburgh Symphony, Toronto Symphony, Detroit Symphony, Baltimore Symphony and the Buffalo Philharmonic.
As an educator, Mr Kemp is an adjunct instructor of percussion at the University of Manitoba and coaches the percussion sections of the Winnipeg Youth Orchestras. Michael is excited to be joining the faculty of the Brevard Music Center for the 2021 season.
Michael previously served as the principal timpanist of the National Repertory Orchestra in Breckenridge, CO and has attended the Aspen Music Festival, Brevard Music Center Institute, and the Chautauqua Music Festival.
Mr. Kemp received both his Bachelor's and Master's degrees in Music Performance from Duquesne University in Pittsburgh, Pennsylvania, where he studied with Edward Stephan, Chris Allen, Andrew Reamer, and Jeremy Branson of the Pittsburgh Symphony Orchestra. Additionally, Michael attended Cleveland State University where he studied with Tom Freer of the Cleveland Orchestra. In Rochester, NY, Michael had the opportunity to study with Ruth Cahn, John Beck, and Charles Ross while attending the Eastman Community Music School. Mr. Kemp is an endorser of Freer Percussion products and Remo drumheads.