Rebecca Gilmore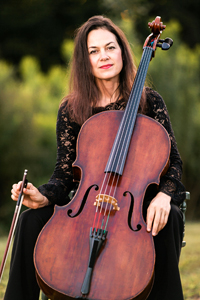 Rebecca Gilmore, an orchestral and chamber musician, celebrates her 20 years of work with Maestra JoAnn Falletta and the Virginia Symphony Orchestra. As Assistant Principal Cello, she has led Strauss operas and has performed dynamic cello solos of Vivaldi, Double Cello Concerto, and Beethoven, Triple Concerto. Ms. Gilmore enjoys a varied career as an extra with The Philadelphia Orchestra and Baltimore Symphony Orchestra. A native North Carolinian, she was Principal Cellist of the Greensboro Symphony where she made her solo debut with Tchaikovsky's Rococo Variations.
Now calling Hampton Roads home, chamber music has been a steady passion with numerous highlights. One such Virginia Arts Festival event was to join forces with JoAnn Falletta in a 2010 NPR live broadcast with the lively Schubert Guitar Quartet. Another feature was with her group, Ambrosia Quartet, honoring star recipient of Norfolk's Legends of Music Walk of Fame, Dr. Adolphus Hailstork. Ms. Gilmore has been a featured solo and chamber artist with the Virginia Arts Festival, the Virginia Symphony Orchestra and most recently, a livestreamed #cellocollab cello faculty recital with clarinetist and father, Jimmy Gilmore, and pianist, Dr. Ben Corbin, from Christopher Newport University in April 2021. In her Virginia Pilot recital review, John Shulson wrote, "Her warm, full tone, technique and temperament combined to make this engaging hearing."
As leader/co-founder of her long-standing professional string quartet, Ambrosia Quartet, she plans future music collaborations and new venues. They continue partnerships with The Academy of Music and The Hampton Roads Chamber Players. Both Spotify Artists, Rebecca Gilmore and Ambrosia Quartet, actively pursue recordings to add to their successful Hailstork recording, "Swing Low, Sweet Chariot". Most recently she can be heard on www.whro.org/virtualconcerts concert #6 (Feb. '21) performing with pianist, Daniel Lau, Beethoven's Cello and Piano Sonata in A.
Ms. Gilmore has two cello performance degrees from both Indiana University and Rice University, which prepared her well for solo, chamber, orchestral performance, and she continues to "carry the torch" as her teacher Janos Starker instructed. The year of 2020 turned the world of the artists upside-down, re-training us all for a new resiliency. As a result, Ms. Gilmore's home cello studio turned all virtual, personally, she pursued Yoga teacher training (RYT 200 Training), founded her own Yogawithcello, she ran an outdoor fall music series with her #VSOmusicians and Open Norfolk at "The Plot", and with her #boxcello, she performed Wainwright's "Hallelujah" from the back of her lit up van in the cold of December. Ms. Gilmore's family has remained virtual with school/work, with their hero, a super, curly-haired dog, Gustavo Moon.