Jestin Pieper
2021 Programs
---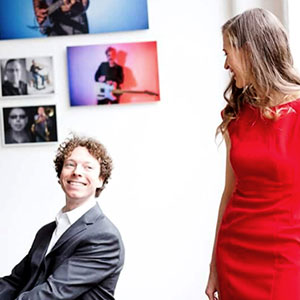 Mr. Pieper has appeared in major venues across the country and abroad including guest appearances on the Discovery Channel, WNYC and WNPR and performances at Carnegie Hall, The Bruno Walter Auditorium, Symphony Space, Manhattan School of Music, Mannes School of Music, The Kaufman Center, Opera America in NYC, The Long Center and Bates Hall in Austin Texas, Harris Hall in Aspen Colorado and performances in Lucca and Palermo in Italy. In the summer of 2019, in collaboration with Double V Records, Jestin released his first solo album titled "Humoreske" which will feature works by Schumann and Scriabin and will be available on many popular platforms including iTunes, Spotify, and Amazon music.
A sought after vocal coach and collaborator, Jestin works as a freelance pianist in NYC both as a soloist and collaborative pianist. Jestin serves as a faculty member for several programs, including the Sherill Milnes Voice experience, International Vocal Arts Institute, pianist and coach at Manhattan Opera Studio and in the summer of 2020 will be on staff at the Brevard Music Festival. He is currently on staff as a vocal coach and pianist at Manhattan School of Music.
As an educator for 15 years, Mr. Pieper has extensive experience teaching students from beginners to emerging professionals and everything in between. He has given masterclasses, presentations and has done outreach programs at schools across the country. As a member of MTNA, and as a Steinway Educational partner, he maintains a vibrant piano studio in NYC. Several of his students have already achieved success including acceptance into the Metropolitan Children's Chorus, and acceptance in the countries leading arts school, including LaGuardia HS. Jestin is also the co-director of the Elmhurst community school after school music program, whose goal is to develop a strong and robust arts and music program for the K-5 school and the local community. Jestin is the principal organist at Holy Trinity Episcopal Church in Inwood, NYC, and will take over as music director in 2021 after the church is renovated. Jestin is also in the library of congress for his transcription of Mahler's 4th symphony which is available on IMSLP.org.
As a conductor, he made his conducting debut in 2015 with the Hellenic Orchestra at the Bruno Walter Auditorium. Since then, Jestin has worked as an Assistant Conductor and Chorus Master for many companies and festivals including the Long Island Lyric Opera company, the Martha Cardona Opera company, Amore Opera company, Regina Opera company, Chelsea Opera company, Manhattan Opera Studio, and Manhattan School of Music. In March of 2020, Jestin made his conducting debut with the Victor Herbert Renaissance Project, conducting the comic opera Madeleine to Critical acclaim. In the summer of 2020, Jestin will be joining the staff at Brevard Music Festival in their Opera Program. Jestin received his Bachelor of Music, magna cum laude, from Lawrence University, a Master of Music degree from the University of Texas at Austin, and a professional studies degree from Manhattan School of Music.