Karen Kim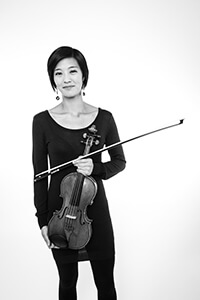 Grammy Award-winning violinist Karen Kim is widely hailed for her sensitive musicianship and passionate commitment to chamber and contemporary music. Her performances have been described as "compellingly structured and intimately detailed" (Cleveland Classical), "muscular and gripping" (New York Classical Review), and having "a clarity that felt personal, even warmly sincere" (The New York Times). She has performed in such prestigious venues and series as Carnegie Hall's Stern Auditorium and Zankel and Weill Recital Halls; the Celebrity Series of Boston; the Philadelphia Chamber Music Society; the Vienna Musikverein; London's Wigmore Hall; the Musée d'Orsay in Paris; the Seoul Arts Center; and Angel Place in Sydney, Australia. She received the Grammy Award for Best Chamber Music Performance in 2011 for her recordings of the complete quartets of György Ligeti.
Esteemed for her versatility across a broad spectrum of musical idioms and artistic disciplines, Ms. Kim has collaborated with artists ranging from Kim Kashkashian, Jörg Widmann, and Shai Wosner to Questlove & The Roots and the James Sewell Ballet. She is a member of the Jasper String Quartet, winners of Chamber Music America's prestigious Cleveland Quartet Award and the Professional Quartet in Residence at Temple University's Center for Gifted Young Musicians. She is also a member of the critically acclaimed Talea Ensemble, Ensemble Échappé, and Deviant Septet, and she is a founding member of the "forward-looking, expert ensemble" Third Sound (The New Yorker).
Ms. Kim received a Bachelor's and Master's degree in Violin Performance, as well as a Master's degree in Chamber Music from the New England Conservatory, where she worked with Donald Weilerstein, Miriam Fried, Kim Kashkashian, Roger Tapping, Paul Katz, and Dominique Eade. She is a supporter of the Sandy Hook Promise Foundation.