J Freivogel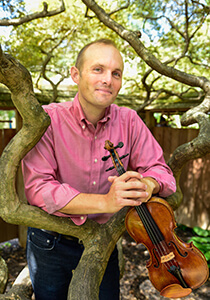 J Freivogel is the founding and current first violinist of the Jasper String Quartet, winner of the prestigious CMA Cleveland Quartet Award and the Professional Quartet in Residence at Temple University's Center for Gifted Young Musicians. With the Quartet, J has released 6 albums, commissioned numerous string quartets, performed across the globe, won the Grand Prize and the Audience Prize in the Plowman Chamber Music Competition, the Grand Prize at the Coleman Competition, First Prize at Chamber Music Yellow Springs, and the Silver Medal at the 2008 and 2009 Fischoff Chamber Music Competitions. An active chamber musician and teacher, J is also a core member of the East Coast Chamber Orchestra (ECCO).
J attended Oberlin College and Conservatory for Bachelor's degrees in Violin Performance and Politics and, during his time there, won the Kauffman Chamber Music prize three times, the Presser Music Award, the Hurlbutt prize for most outstanding violinist, and the concerto competition. He received his Master's in String Quartet Performance from Rice University's Shepherd School of Music and an Artist's Diploma at the Yale School of Music. His principal teachers include Marilyn McDonald, Sylvia Rosenberg, and Cho-Liang Lin for violin and James Dunham, Norman Fischer and the Tokyo String Quartet for chamber music.
J is married to cellist Rachel Henderson Freivogel and they live in Philadelphia, PA with their children, Leon and Evy.