Thomas Jöstlein
2021 Programs
---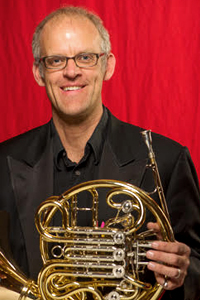 Thomas Jöstlein, Associate Principal Horn of the St. Louis Symphony Orchestra since 2010, is passionate about helping students achieve success. Applying his innovative "singing success mechanism," several of his students have played in All-state orchestras and have won solo competitions.
As a performer, Thomas has been the New York Philharmonic's Assistant Principal Horn under Lorin Maazel, playing three major tours, including the historic live broadcast from North Korea (2008).
In 2019, Thomas toured China, Taiwan, and Japan with the Orpheus Chamber Orchestra and pianist Nobu Tsujii, recording the Ravel G-Major and Beethoven second concerti.
He has also held positions with the Honolulu, Omaha, Richmond, and Kansas City Symphony Orchestras, and performed in the Napa Valley, Classical Tahoe, Britt, and Eastern Music Festivals, among others.
Jöstlein loves spreading the lessons of his mentors: Arnold Jacobs, Roger Rocco, and William VerMeulen. He was Assistant Professor of Horn at the University of Illinois, taught several times at Indiana University, and has held adjunct positions at Saint Louis University, the University of Hawaii, and at Virginia Commonwealth University.
As a soloist, Jöstlein won first prize in the professional division of the American Horn Competition (2003), and the grand prize at the Hugo Kauder Music Competition at Yale University (2005), earning a recital at Merkin Concert Hall in NYC. He has appeared with the SLSO as a soloist on several occasions, playing Schumann's Concertstück for Four Horns and Orchestra and the Vivaldi Double Concerto with Chris Dwyer under Nicholas McGegan.
He appears on several recordings, notably Tony Bennett's Duets II album, along with his sister, Barbara Jöstlein Currie, Fourth Horn of the Metropolitan Opera Orchestra. On the natural (classical) horn, he has performed the Haydn D-Major concerto and the Brahms Trio with Stephanie Chase and Brian Connelly, and with the Boulder Bach Festival.
Jöstlein performs on a triple horn by J. Patterson, on natural horns by R. Seraphinoff and L.J. Raoux (ca. 1820), and on a Vanon alphorn.
He lives in University City with wife and fellow horn player, Tricia, and sons, Klaus and Max.