Charles Mutter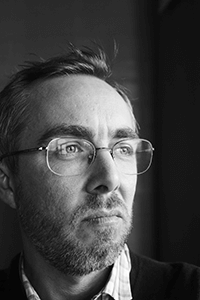 Charles Mutter was born in 1970, in Sussex. He studied with Anthony Stevenson, Andrew Sherwood, Kenneth Piper (while a Junior Exhibitioner at the Royal College of Music), David Takeno (while at Jesus College, Cambridge) and Simon Fischer.
As Associate Leader (co-concertmaster) of the BBC Concert Orchestra since 2007, Charles has performed and recorded solo works by Armstrong Gibbs, Beethoven, Bruch, Dvorak, Elgar, Muhly, Sibelius, Vaughan Williams and Weill. Other concerto appearances have included Vivaldi at St Martin-in-the-Fields, Brahms, Tchaikovsky and Shostakovich with Scottish Sinfonia, Korngold with the Bristol Metropolitan Orchestra and double concerti by Brahms, Saint-Saëns and Delius. In October 2016 he gave the premiere (in Bucharest) of Guy Barker's Concerto in One Act, written for him and the BBCCO. He performs Lutoslawski's "Chain 2" as part of Rambert Dance Company's new ballet "Life is a Dream", premiered at Sadler's Wells, London in May 2018.
Prior to his appointment with the BBCCO, Charles led the Edinburgh String Quartet for four years, touring throughout the UK and making numerous recordings. While in Scotland, he became Artistic Director of the Loch Shiel Spring Festival, a post he held from 2005 to 2014. He is now also much in demand as a guest concertmaster (Philharmonia, City of Birmingham Symphony Orchestra, Bournemouth Symphony Orchestra) and session musician. Arranging is a particular passion of his, and projects have ranged from work on "Emmerdale" (one of the UK's favourite soap operas!) to a reduction of Mahler's Das Lied von der Erde for 8 musicians. May 2018 saw the premiere of his orchestration of Graham Fitkin's string quartet "Servant", in Truro Cathedral, broadcast on BBC Radio 3.
Charles' violin is a copy of the "Lord Wilton" Guarnerius (1742) made for him in 2007 by the brilliant young German luthier, Stephan von Baehr.