Sheryl Staples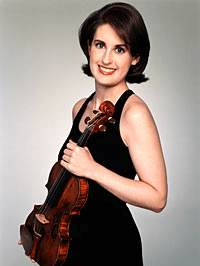 Violinist Sheryl Staples joined the New York Philharmonic as Principal Associate Concertmaster, The Elizabeth G. Beinecke Chair, in September 1998. She made her solo debut with the Philharmonic in 1999 performing Tchaikovsky's Violin Concerto, led by Kurt Masur. She has since been featured in more than 25 performances, playing concertos by Mendelssohn, Mozart, Haydn, Bach, and Vivaldi with conductors including Alan Gilbert, Lorin Maazel, Kent Nagano, Jeffrey Kahane, and Sir Colin Davis. In addition she has performed as soloist with more than 45 orchestras nationwide, including The Cleveland Orchestra, Los Angeles Philharmonic, San Diego and Richmond Symphony Orchestras, and Louisiana Philharmonic. Most recently, she performed Mozart's Sinfonia concertante with Principal Viola Cynthia Phelps, led by Jaap van Zweden in November 2014.
The New York Times wrote that "she is a perceptive musician, who plays with great rhythmic integrity and a lucid sense of phrase structure. ... she draws a wonderful array of vibrant and luminous colors ... interpretive honesty and unmannered elegance." The Los Angeles Times said she has a "tantalizing mix of qualities. ... refinement and boldness, polish and fire. ... big, rich, sweeping tone, lacking nothing in warmth and evenness." The Cleveland Plain Dealer praised her "aristocratic artistry coupled with violinistic mastery ... pinpoint accuracy and daring that took the breath away."
An active chamber musician, Ms. Staples is a member of the New York Philharmonic String Quartet, established in the 2016–17 season, and frequently performs in the New York area in venues including David Geffen Hall, Merkin Concert Hall, 92nd Street Y, and The Metropolitan Museum of Art. Ms. Staples has performed chamber music for U.S. Ambassadors in London, Paris, Berlin, Beijing, and Hong Kong, and in 2013 she toured Mexico, Brazil, and Chile. Recent summer festival appearances include La Jolla Music Society's SummerFest, Boston Chamber Music Society, and Salt Bay Chamberfest. She has also collaborated and performed at the chamber music festivals of Santa Fe, Mainly Mozart, Seattle, Aspen, Sarasota, Martha's Vineyard, Strings Music Festival, and Brightstar Music Festival. She appears on three Stereophile compact discs with the Santa Fe Chamber Music Festival.
Sheryl Staples is a native of Los Angeles, where she developed her love for ensemble work at an early age. She began studying the violin at age five, and her major mentors were Robert Lipsett and Heiichiro Ohyama. Before finishing studies at the University of Southern California's (USC) Thornton School of Music, Ms. Staples was appointed concertmaster of the Santa Barbara Chamber Orchestra and other professional ensembles in Los Angeles. She then became concertmaster of the Pacific Symphony in 1994 while enjoying a varied career consisting of solo appearances, chamber music, teaching (at USC's Thornton School of Music and the Colburn School of Performing Arts), and Hollywood studio recording work for numerous major motion pictures.
At the age of 26 Ms. Staples joined The Cleveland Orchestra as associate concertmaster, a position she held for three years. In addition, she taught at the Cleveland Institute of Music, Encore School for Strings, and Kent/Blossom Music Festival, and she was a member of the Cleveland Orchestra Piano Trio. Currently she is on the violin faculty at the Manhattan School of Music and Juilliard Pre-College Division. She also serves on the faculty of The Juilliard School working with students aspiring toward orchestral careers.
Ms. Staples resides in New Jersey with her husband, percussionist Barry Centanni, and children, Michael and Laura. Mr. Centanni and Ms. Staples premiered William Kraft's Concerto a Tre for piano, violin, and percussion, written for them, at Martha's Vineyard Chamber Music Society's summer festival and recorded it for release on the Albany Records label in 2008. They also premiered David Sampson's Black River Concerto for solo violin, percussion, and orchestra in April 2011 with the Montclair State University Symphony.
Ms. Staples performs on the "Kartman" Guarneri del Gesu, ca. 1728, previously on loan from private collector Peter Mandell and now in the collection of the New York Philharmonic.
---