Jacob Adams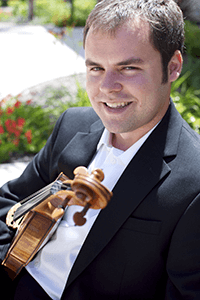 Lauded for his "engaging" performances and his "expressive and intense" playing (American Record Guide), Jacob Adams is Assistant Professor of Viola at the University of Alabama. Since making his solo debut with the Cincinnati Symphony Orchestra at age 17, he has performed throughout the United States and at major venues around the world, including all three stages at Carnegie Hall, Merkin Hall, the Hollywood Bowl, Boston's Symphony Hall, Seattle's Benaroya Hall, the Rudolfinium in Prague, and the El Escorial Palace in Spain. Jacob has performed on the prized Amati instruments at the Smithsonian and appeared on stage with such diverse acts as the Kronos Quartet, Yo-Yo Ma, Suzanne Vega, Herbie Hancock, Quincy Jones, Diana Krall, and Cristian McBride, among others. He has premiered new works by celebrated composers, including William Bolcom and Caroline Shaw. Jacob is a frequent guest with ensembles and orchestras around the country, including A Far Cry (Boston), Manchester Summer Chamber Music, Blueshift Ensemble (Memphis), and the symphony orchestras of Santa Barbara, Mobile, Huntsville, and New Haven. Since 2015, Jacob has served as principal violist of the Tuscaloosa Symphony.
Recent engagements include chamber concerts in Havana, Cuba, soloing with the University of Alabama's Huxford Symphony Orchestra and appearances at the 2017 International Viola Congress (Wellington, NZ), the 2018 ASTA National Conference (Atlanta), and the 2018 American Viola Society Festival (Los Angeles). Jacob's debut album, "Czech Portraits," was released in 2016 on the Centaur label, featuring original transcriptions of Janáček violin pieces as well as works by Otakar Zich and Ladislav Vycpálek with pianist Pascal Salomon. His article on Vycpálek's 'Suite for Solo Viola' was published in the Fall 2015 issue of the Journal for the American Viola Society. With his frequent collaborator pianist Angela Draghicescu, Jacob has co-commissioned a new viola and piano work from composer William Bolcom, which will be premiered in 2018 on the occasion of the composer's 80th birthday and recorded for the American Classics label.
Chamber music highlights include performances with members of Camerata Pacifica, the Muir String Quartet, and the St. Petersburg String Quartet. From 2007-2009, Jacob was the violist of the critically acclaimed Vinca String Quartet, with whom he won special mention at the Borciani International Quartet Competition. As the founding violist of the Erato Quartet, he won top prize at the Coleman Chamber Music Competition. A native of Cincinnati, Ohio, Jacob is a graduate of Oberlin Conservatory, Yale School of Music, and University of California – Santa Barbara. His principal teachers include Helen Callus, Jesse Levine, Roger Chase, Roland Vamos, Masao Kawasaki, and Catharine Carroll Lees. In addition to his performance degrees, Jacob earned his M.A. in Musicology from the University of California – Santa Barbara. In his spare time, Jacob is likely to be found hiking, exercising, cooking, or bowling (high score: 289). He lives with his wife, Shannon McCue, in Tuscaloosa.
---