Soh-Hyun Park Altino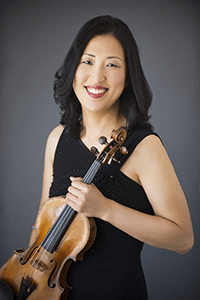 Violinist Soh-Hyun Park Altino is highly regarded as a gifted teacher and a versatile performer of solo and chamber music. Her concert engagements have taken her to Brazil, Colombia, Germany, Korea, Venezuela, and throughout the United States. She has performed at such festivals as the Duxbury Music Festival, Festival de Inverno Campos do Jordão and Festival Virtuosi in Brazil, and the Academy y Festival Nuevo Mundo in Venezuela. Praised for her "poise and precision," she has appeared as soloist with orchestras such as the Memphis Symphony, Jackson Symphony, Peabody Concert Orchestra, Masterworks Festival Orchestra, Sinfonica de Campinas in Campos do Jordão, Festival Virtuosi Orquestra in Recife, and Suwon Philharmonic in Seoul, and has collaborated with Monique Duphil, Oleh Krysa, Laurie Smukler, Suren Bagratuni, Daniel Shapiro, and Jasper de Waal among others. As an enthusiastic supporter of new music, she has enjoyed working closely with composers Steven Mackey, Margaret Brouwer, James Mobberley, and Kamran Ince. She recently released a CD of music for violin and cello, which features a commissioned work, En Voyage, by Paul Desenne.
As a dedicated teacher, Soh-Hyun directed the String Intensive Study Program at Masterworks Festival for eleven summers, taught through projects such as Fabrica de Musica and eMasterclass in Brazil and Festival y Escuela Internacional de Musica in Colombia, and has presented violin master classes at universities nationally and internationally. Prior to joining the faculty of the University of Wisconsin-Madison Mead Witter School of Music in 2015, she served as associate professor of violin and chamber music at the University of Memphis from 2001 to 2015, where she regularly performed as a member of the Dúnamis Trio and the Ceruti Quartet. Her experiences and insights gained from overuse injuries as a student have served as one of the major factors that inspire her passion and inquisitiveness for teaching, and she has become an advocate of continuing education for performers and teachers. To this end, she has presented professional development sessions and held forums and clinics for violin teachers and their younger students.
A native of Korea, Soh-Hyun grew up in a musical family and studied with Young-Mi Cho. At age sixteen, she came to the U.S. and studied with Violaine Melançon at the Peabody Institute where she was also given intensive training in chamber music and music theory. Her major chamber music coaches include Anne Epperson and the members of the Peabody Trio and the Juilliard, Concord, Cavani, and Cleveland Quartets. Soh-Hyun received her Bachelor's, Master's, and the Doctor of Musical Arts degrees in violin performance from the Cleveland Institute of Music, where she was a student and teaching assistant to Donald Weilerstein.
---