Tim Green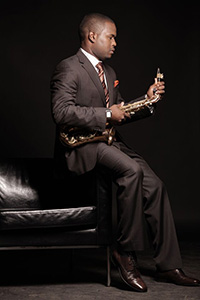 Called "a player to watch" by JazzTimes, Tim Green seized the attention of the jazz community with his second-place finish in the 2008 Thelonious Monk International Jazz Saxophone Competition. He delivered on the promise of that prestigious honor with the release of his 2012 album Songs From This Season, on his own True Melody Music label.
Green is a native of Baltimore, where he grew up surrounded by music. His father and uncle are singers, while his older brother was a trumpet player who Green emulated. While still attending high school at the Baltimore School of the Arts, he was selected from amongst more than 500 hopefuls to join the 25-member Grammy High School All- Star Band, which performed at the recording industry's gala awards ceremony in Los Angeles.
He received his Bachelor of Music degree from the Manhattan School of Music, where he studied under the tutelage of renowned instructors such as Dick Oatts, Gary Dial, Steve Slagle, and Bob Mintzer. In 2003, he was invited to be a part of the Jazz Aspen Snowmass summer program under such luminaries as Lewis Nash, Russell Malone, Benny Green, Wallace Roney, and Christian McBride.
In 2007, Green earned his Masters in Jazz Studies from the University of Southern California's Thelonious Monk Institute of Jazz, where he came under the guiding lights of legends like Herbie Hancock, Wayne Shorter, and Terence Blanchard.
After graduating from the Monk Institute, Green returned to his native Baltimore, where he is a key component of the city's burgeoning jazz community. He still maintains an active presence in New York, and has been mentored by piano great Mulgrew Miller.
Green now serves as the saxophone professor at Morgan State University and teaches at his alma mater, the Baltimore School for the Arts.
---
Listen to Peace: