Hazel Dean Davis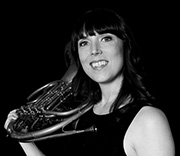 Hazel Dean Davis moved to Boston in 2015 where she is a freelance horn player, playing regularly with the Boston Symphony Orchestra and Pops, and the Grammy nominated chamber orchestra, A Far Cry. Previously, Hazel played second and fourth horn with the Virginia Symphony Orchestra for 11 years, a job she won at age 22. Hazel spends her summers as a faculty artist and teacher at the Brevard Music Center in North Carolina.
Originally from St. Paul, Minnesota, Hazel graduated from Harvard University in 2003 with a BA in Biological and Social Anthropology. At Harvard, she studied horn with James Sommerville of the Boston Symphony and was active in the chamber and orchestral music scene, receiving both the David McCord Prize for Music and the Louis Sudler Top Prize in the Arts. Hazel appeared as a soloist at Harvard in the Britten Serenade in 2001 and in the world premiere of American composer Carson Cooman's Enchanted Pathways, written for her in 2003.
In addition to Mr. Sommerville, Hazel has studied with Caroline Lemen and Kendall
Betts in St. Paul, and with Julie Landsman at The Juilliard School, where she received a Graduate Performance Diploma in 2004.
As a student Hazel performed at the Aspen Music Festival, Tanglewood Music Center, Pacific Music Festival, and the Marlboro Chamber Music Festival.
Highlights in her 2016 include ten weeks with the Boston Symphony Orchestra, including their Carnegie Hall Tour, two weeks with the San Francisco Symphony, a Carnegie Hall Tour with the Baltimore Symphony, premiering Matthew Aucoin's opera "Crossing" at the American Repertory Theatre in Cambridge, as well as concerts with Rhode Island Philharmonic, Portland Symphony, A Far Cry and BMOP.
A passionate chamber musician, Hazel plays regularly in the Virginia Arts Festival Chamber Series, where critics have called her "the star of the show...she played with complete security and authority...whether asked for leaps, trills, or long beautiful sustained notes" (Virginian Pilot).
In addition to her summer teaching at the Brevard Music Center, Hazel maintains a private horn studio in Arlington, MA. Hazel lives with her husband Steve and children Diana, Nadia, and Kalle.
---