Jay Christy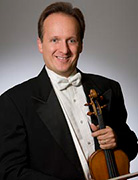 Jay Christy is Assistant Principal Second violinist in the Atlanta Symphony Orchestra. Mr. Christy began studying the violin at the age of three in the Washington D.C. area with his mother Nancy. His other teachers include John Merrill of the Baltimore Symphony and Lev Gurevich of the Florida Symphony. Jay received his Bachelor of Music degree from The Cleveland Institute of Music as a student of David Cerone, David Updegraff, Victor Danchenko, and Eugene Gratovich. He received a Master of Music degree from Indiana University as a student of Franco Gulli, and later pursued orchestral studies with Stephen Majeske and Bernhard Goldschmidt of the Cleveland Orchestra.
Jay has been performing with the Atlanta Symphony Orchestra since 1991 and in 2002 was named Assistant Principal Second. In 2012 he was asked to perform with the Cleveland Orchestra under Franz Welser-Most for concerts in Cleveland, Carnegie Hall and Miami. He was also Assistant Concertmaster of the American Sinfonietta in Bellingham, Washington from 1993-2002, and has performed with the Grand Teton Music Festival since 2003. Jay has performed with the Georgian Chamber Players at Spivey Hall, is a frequent guest of the Emory Chamber Music Society, has performed with the Vega String Quartet, and has performed with Thamyris, a contemporary music ensemble. He is an active violin teacher and coach in the metropolitan Atlanta area, is an Artist Affiliate at Emory University, and has been on the faculty of Reinhardt College and served as adjunct faculty at Covenant College in Chattanooga, Tennessee. He also is a guest faculty member at Stringendo School for Strings, and has taught and performed at the Robert McDuffie School for Strings at Mercer University. This season he will be appearing with the Riverside Chamber Players and recently completed a CD with them. He also completed another chamber music recording, a collection of oboe quartets recorded with his two sisters and brother-in-law, who are also professional musicians. The name of the group is the Christy Oboe Quartet and they have played concerts throughout the Southeast and in Breckenridge, CO.
Jay has appeared as soloist with the Emory Youth Symphony Orchestra, the Walton High School Orchestra on an Austrian tour, the Rome Symphony, the Florida Space Coast Philharmonic, the Florida Symphony Orchestra under Alfred Savia, and the Melbourne Community Orchestra. He also soloed with the National Repertory Orchestra under Otto Werner Mueller, the Cleveland Institute of Music Orchestra under Louis Lane, the Ohio Ballet Orchestra, and the Congress of Strings Orchestra in a double concerto with Joseph Silverstein.
Jay is a deacon at Christ Presbyterian Church, and resides in Marietta, Georgia, with his wife Katie and three children: Diana, Jeanette, and Andrew. He enjoys jogging, hiking and mountaineering in his spare time.
---