Sarah Pelletier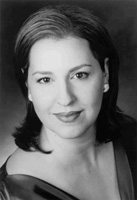 Soprano Sarah Pelletier has gained recognition through performances at the world's most renowned music festivals such as the Spoleto Festival USA, Bard Music Festival, Saito Kinen Festival Matsumoto, Aldeburgh Festival, Ravinia Festival's Steans Institute, and the Tanglewood Festival of Contemporary Music. She was a Finalist in the International Opera Singers Competition, sponsored by the Center for Contemporary Opera in New York City, and the NATS Artist Awards Competition. Ms. Pelletier made her New York City recital debut as a Finalist in the 1999 Poulenc Centennial Competition.
Ms. Pelletier's operatic career has extended internationally with performances at the Maggio Fiorentino and the Aldeburgh Festival, UK, and nationally as well with Opera North, Opera Theater of Philadelphia, and Opera-Aperta of Boston. Her operatic roles have included Donna Elvira in Don Giovanni, Countess in Le Nozze di Figaro, Fiordiligi in Così fan tutte, Mimì in La Bohème, Helena in A Midsummer Night's Dream, and Lady Billows in Albert Herring. She has collaborated on these productions with many esteemed conductors and directors such as Seiji Ozawa, David Kneuss, Drew Minter, James Robert Carson, and Craig Smith.
As a concert soloist, Ms. Pelletier has performed with the New Japan Philharmonic in Tokyo, the Gulf Coast Symphony (FL), and with a number of orchestras in New Jersey such as the New Jersey Symphony Orchestra, Garden State Philharmonic, Princeton Symphony Orchestra, Masterwork Chorus and Orchestra, Princeton Pro Musica, and Westminster Community Orchestra. In the Boston area, she has performed with the Cambridge Symphony, Hingham Symphony, Emmanuel Music, Coro Allegro, and New England Classical Singers. Her recent performances have included Brahms's Requiem, Haydn's The Creation, Mozart's Requiem and C minor Mass, Handel's Alexander's Feast, and Handel's Messiah at the Washington National Cathedral.
Her interest in Contemporary Music has led to premieres by James Yannatos, Howard Frazin, Arlene Zallman, and John Goodman as well as performances under the direction of Lukas Foss, Robert Spano, and John Harbison. She has performed on many contemporary music series including the Tanglewood Festival of Contemporary Music, Composers in Red Sneakers, and the "Music in Time Series" at the Spoleto Festival USA. Ms. Pelletier has been featured on the BBC radio broadcast Live from Tanglewood and has recorded Britten's Te Deum in C under Joseph Flummerfelt for Chesky Records.
---