Scholarships
Brevard Music Center offers scholarship support according to a student's audition and demonstrated financial need, and program need. In 2019 over 70% of Brevard students received support from the Music Center.
Students are encouraged to seek financial assistance from outside sources. Schools, music clubs and organizations, youth orchestras and bands, service clubs (e.g., Rotary, Kiwanis, etc.), businesses, and foundations may be willing to help. Be professional and creative, and start planning early.
Visit this website for a comprehensive list of organizations that provide scholarships for musicians.
Students apply for Brevard's scholarships online, as part of the regular application process. Applying for scholarship support requires disclosure of certain financial information and a detailed statement of need.
---
Merit Awards
Merit awards are determined by the audition for admission. Many students receive a combination of merit awards and need-based aid.
---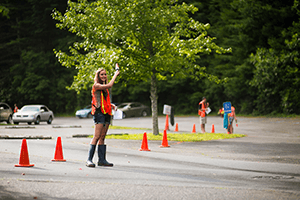 Work Study
Need-based scholarship support is awarded as work study. Work study students complete from 2 to 8 hours of assigned duties per week, depending upon the amount of the award. Students may work as library, administrative, or technical assistants, parking attendants, or as ushers. Various other activities are available according to qualifications.
New Music Ensemble Work Study
Brevard's New Music Ensemble is comprised of instrumentalists in the College Division who have demonstrated ability and interest in the performance of new music. The ensemble performs music written by students in the Composition program while in attendance at Brevard. Interested applicants must submit additional information for consideration within the scholarship portion of the online application.
---
BMC Opportunity Scholarship
The BMC Opportunity Scholarship is designed to assist historically underrepresented populations in the field of classical music. Open to students of African-American and Latinx descent, the BMC Opportunity Scholarship program seeks to help these young musicians overcome financial obstacles that might prevent them from achieving their full potential. BMC Opportunity Scholarships are awarded in conjunction with merit and work study scholarships. Students may apply for the scholarship in the Financial Aid section of the online application.
---
Special Opportunities for College Division students
Qualified students in the College Division may be appointed as Teaching Assistants or Resident Assistants. Teaching Assistants and Resident Assistants pay a non-refundable enrollment fee of $800 which covers tuition, room, and board.