Collaborative Piano
June 21 - August 9, 2020
The Brevard Music Center offers a program in Collaborative Piano for students in the College Division. Students accepted into this advanced program will concentrate on collaborative activities including chamber music, vocal accompaniment, orchestral keyboard, and concerto accompaniment.
---
The Program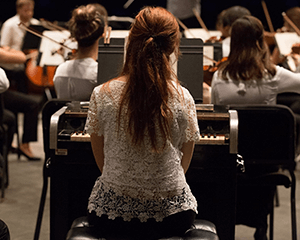 Students will:
receive weekly lessons
engage in regular collaborative events
participate in coachings with Brevard's renowned artist faculty
be assigned to perform keyboard parts in Brevard's orchestral concerts
attend open rehearsals with world-renowned concert soloists
have numerous opportunities for public performance
have the opportunity to attend nearly 80 orchestra, chamber, solo, and opera performances
Students applying for this program should have a broad range of experience in the field of accompanying. Each student enrolled in the Collaborative Program will be assigned to a variety of instrumental studios, and will be responsible for the accompaniment needs of those studios in lessons, studio classes, masterclasses, and performances. In addition, students in this program will play for concerto competition contestants and will be assigned specific works and/or studios to cover during the competition.
Coachings with Brevard's artist faculty will be provided for all performing responsibilities.
Students work on campus in 90 studios and practice rooms. Piano students may reserve daily practice time. Steinway is the official piano of the Brevard Music Center.
The BMC Piano Competition is open to any BMC pianist enrolled for the full session. Each of the five finalists receives a cash prize.
---