College Classical Guitar
Full Session: June 25 - August 9, 2020
First Session: June 25 - July 17, 2020
Second Session: July 18 - August 9, 2020
Under the direction of Professor Adam Holzman, Brevard's Classical Guitar program is an intensive course of study offering private lessons, chamber music coachings, and masterclasses for guitarists age 14-29. Classical Guitarists may attend for the full six-week term or for either the first or the second session (three weeks).
---
The Program
Each student will receive at least one hour a week of private lessons and will have multiple opportunities to attend and perform in weekly master classes. Instruction is geared to the level and specificity of the student.
Areas of focus will be: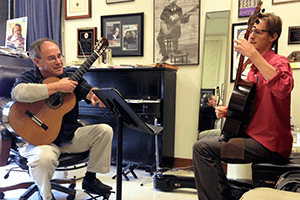 interpretation
technique
pedagogy
chamber music
sound production
stage deportment
entrepreneurship
competition preparation
college audition preparation
guitar ensemble
Advanced students will have the opportunity for chamber music drawing on the wealth of talent from the other festival participants. Concert opportunities, both on and off campus, will be offered to those ready for performance and the course will culminate in a class recital.
Students will be encouraged to attend and be part of world-class performances happening on campus every day.
Students in the Classical Guitar program will participate in the BMC Chorus. The 2020 Season Finale will feature the BMC Chorus and Orchestra with Maestro Sebastian Lang-Lessing in a concert performance of Beethoven's Fidelio.
Admission to the Classical Guitar program is by audition. The application deadline is March 10, 2020.
---
Sample Daily Schedule
7:00 a.m. - 9:00 a.m.
Breakfast
9:10 a.m. - 10:00 a.m.
Technique Class (taught by TA for all students)
10:00 a.m. - 12:00 p.m.
Practice time
11:30 a.m. - 1:30 p.m.
Lunch
1:00 p.m. - 2:00 p.m.
Topics in Pedagogy (Wednesday)
1:00 p.m. - 3:00 p.m.
Private Lessons (Monday, Tuesday, Thursday, Friday) *
2:00 p.m. - 4:00 p.m.
Private Lessons (Thursday) *
3:00 p.m. - 5:00 p.m.
Masterclass (Monday, Wednesday)
3:00 p.m. - 5:00 p.m.
Chamber Music Coaching (Tuesday)
4:00 p.m. - 5:00 p.m.
Issues / Answers; class discussion of all topics (Wednesday)
4:30 p.m. - 5:30 p.m.
Piano Masterclass (Thursday)
5:00 p.m. - 7:00 p.m.
Dinner
7:30 p.m.
Attend concerts most evenings
Unscheduled times shall be used for personal practice, rest, and recreation.
* Private lesson times are arranged with the teacher