2016 Season Sponsors
Brevard Music Center gratefully acknowledges and thanks Jacquelyn and Bruce Rogow for their support as our 2016 Season Sponsors.
---
---
Box Office Hours - Brevard Music Center Campus
The Brevard Music Center campus box office is located at the front of Whittington-Pfohl Auditorium.
June 5 - June 23
Monday - Friday: 10:00 a.m. - 5:00 p.m.
June 24 - August 7
Monday - Saturday: 10:00 a.m. - Intermission
Sunday: 12:00 p.m. - Intermission
---
Box Office Hours - Brevard College Campus
The Brevard College campus box office is located inside the Porter Center.
June 11 - August 5
Open only on performance days beginning 2 hours prior to the start of the performance through intermission.
---
Single Tickets
Single tickets are now on sale! See our 2016 schedule for more information on programming or to purchase single tickets.
The box office will open May 2 for walk-up orders.
---
Students and Children
Students 18 and older, with a valid student ID, may sit on the lawn free of charge**. Students are also entitled to a 50% discount for seats inside Whittington-Pfohl Auditorium.
Children 17 and under may sit on the lawn free of charge** with a paying adult. Whittington-Pfohl Auditorium tickets may be purchased for children over the age of 6 for $15. Children under 6 are not permitted inside Whittington-Pfohl Auditorium.
** Discounted tickets are not available for Opening Night or BMC Presents.
---
Lawn Tickets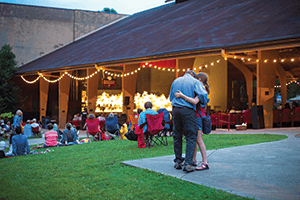 Lawn tickets for most events are $15 for adults, free for children and students.
Lawn seating is available for all events. Bring blankets and/or chairs to sit on, but be courteous to those who may be seated behind you. If you have large and/or obstructive seats or umbrellas, you may be asked to move to another location on the lawn.
Food and drink (including alcoholic beverages) are permitted on the lawn. Please dispose of trash in the trash cans located around the auditorium.
Brevard Music Center is a smoke-free environment. Smoking is strictly prohibited in all BMC buildings, and is also prohibited on the lawn area during performances.
There are no refunds in the case of rain, but you can upgrade your lawn ticket to a seat inside Whittington-Pfohl Auditorium. Upgrades will be subject to an additional cost. For sold-out events, there may not be space available for upgrades inside the auditorium.
---
Groups
Brevard Music Center offers attractive ticket purchase options for groups of 15 or more.
For groups of 15-25, groups will receive a 15% discount. Groups of 26-49 will receive a 20% discount, and groups of 50 or more will receive a 25% discount on single ticket prices***.
Groups of 30 or more are required to pay a 25% deposit at the time of reservation. All group sales must be paid in full the day of the performance.
If you are interested in setting up an evening of fine music for your group, please contact Virginia Carter at 828-862-2131 to make arrangements.
*** BMC Presents concerts are not eligible for group discounts.
---
Ticket Fees
All tickets will be charged a per-ticket service fee of $2.50. This affects tickets purchased via internet, phone, and mail.
Subscriptions will be charged $8 per order.
Group orders of 15 or more tickets to the same event will be charged $8.
All ticket orders are subject to North Carolina Sales tax of 6.75%.
---
Picnics on the Lawn
Enjoy a delicious picnic meal while experiencing an orchestra performance at Whittington-Pfohl Auditorium (WPA).
Picnics can be pre-ordered for your convenience or you can simply visit our main concession venue at WPA. Pre-orders are available through the BMC box office at least 24 hours in advance by calling (828) 862-2105, or purchased online with your performance tickets.
An assortment of beverages are also available for your enjoyment, including Rodney Strong Vineyards red and white wines by the glass, Oskar Blues craft beer, Pepsi products, bottled water, and coffee.
WPA concessions are located on the box office plaza tented area (beverages and snacks only) and the full-service main concession building on the house-left lawn. Concessions are open one hour prior to each performance.
Please note: Pre-order concessions are not available for August 19th, but grill options will be available onsite.
---
Fresh Hand-Crafted Sandwiches ($9)
All sandwiches are served with a side of Deep River Kettle Chips and honey-minted fruit salad.
Turkey Parmesan
Slow-roasted turkey with shredded parmesan cheese, fresh greens with parmesan, and craisin aioli on a croissant.
Asian Curry Chicken Salad
Chicken salad with coconut milk, curry, ginger, and a soy sesame cilantro garlic dressing on a croissant.
Honey Mustard Smoked Ham and Swiss
Smoked ham with honey mustard, fresh greens, and Swiss cheese on an herbed focaccia.
Dusseldorf Basil Beef
Slow-roasted beef with basil Dusseldorf aioli, provolone cheese, and fresh greens to include basil leaf on focaccia.
Greek Hummus Wrap
Greek hummus wrap with balsamic feta dressing, Kalamata olives, shredded feta, red onion, tomato, and romaine lettuce.
---
From the Garden ($9)
Available dressings: Caesar, ranch, lite raspberry vinaigrette, poppy seed, and Italian.
Grilled Chicken Salad
Fresh-cut romaine, croutons, grilled chicken breast, shredded parmesan and a wedge of lemon.
Spinach Strawberry Salad
Fresh spinach with strawberries, candied pecans, and feta cheese.
---
Hamburgers and Hot Dogs ($7)
Hamburgers and hot dogs served with homemade potato chips are available for all events at Whittington-Pfohl Auditorium.
---
Parking
Whittington-Pfohl Auditorium
Whittington-Pfohl Auditorium parking lot remains open during the entire season. For heavily attended concerts it is suggested that you arrive at least 30-45 minutes early to secure a parking space.
The first six rows on the ground level (in front of the auditorium) and the first two levels hillside are reserved parking. There are handicapped spots located throughout the parking area.
View our Campus Map page for more information.
Thomas Hall
Thomas Hall is located on the back of Whittington-Pfohl Auditorium, adjacent to Lake Milner. There is no immediate parking available for this venue, but you can park in the WPA lot, and walk to the Hall.
View our Campus Map page for more information.
Scott Concert Hall / Morrison Playhouse / Scott Commons / Ingram Auditorium
Parking for Scott Concert Hall, Morrison Playhouse, and Scott Commons are located right outside the Porter Center, which is on the Brevard College campus. Parking extends around the side, just in front of the gymnasium. Parking for Ingram Auditorium is located adjacent to the building. Handicapped parking is available on the front row of parking. Reserved parking is not available.
View our Campus Map page for more information.
---
Pets
Pets are not allowed in or around the area of Whittington-Pfohl Auditorium during a performance.
Properly identified service animals are permitted in all areas in which BMC patrons are allowed.