Group Sales
Ready to make your group reservation?
Attending a captivating performance in the serene mountains of Western North Carolina is an ideal experience to share with friends, family, colleagues, and clients. It's also a perfect way to celebrate any occasion — a birthday, anniversary, company milestone, or special moment in time.
By purchasing 10 or more tickets to any single Brevard Music Center performance, enjoy up to 25% off single ticket prices, access to the best seating available at the time of your purchase, personalized customer service and assistance with your group event, and flexible payment options.
---
Frequently Asked Questions
How do I order my tickets?
Make sure your party is large enough to qualify for a group discount. The minimum group sales order (per performance) is 10 tickets.
Contact BMC Group Sales at

828-862-2131

or send an email with your contact information to groups@brevardmusic.org.
When using email, please indicate your desired performance/s, number of tickets, and preferred seating location. Upon receipt, BMC will quickly respond to review and confirm your group reservation.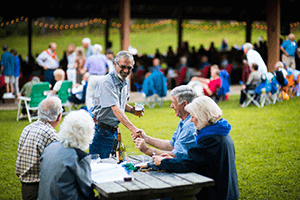 What is the discount on ticket prices for groups?
Group discounts range from 10% - 25% dependent upon the group size. The breakdown is:
10% Discount: Groups of 10-14
15% Discount: Groups of 15-19
20% Discount: Groups of 20-24
25% Discount: Groups of 25 or more
What if I don't know exactly how many seats I will need?
Your quantity of tickets can be adjusted at any point until the final balance is paid, provided that it does not fall below BMC's group minimum of 10 seats. Any discount will be adjusted to reflect the new quantity of tickets, if necessary.
When do I pay for my reservation?
BMC provides maximum flexibility for group sales orders. There is no deposit required for groups of 24 or less. However, groups of 25 or more are required to submit a deposit of 25% at the time of purchase or within 7 days after placing your order.
Final payment must be made by a single check or credit card payment within 7 days of the ticketed performance. Failure to comply with this payment schedule will result in forfeiture of your seats and your deposit.
Can I change my order?
Yes! BMC group orders can be adjusted up or down prior to your performance date/s without incurring any additional transaction fees. Any discount will be adjusted to reflect the new quantity of tickets, if necessary. No refunds of any kind will be issued within 7 days of your ticketed performance.
Can my group sit together?
We will make every effort to seat all of the members of your group together. Please make your reservations early for best seating options.
When will I receive my tickets?
After the final payment has been made, BMC will mail your tickets or hold them at the BMC Box Office for pick-up prior to or on the day of the performance. The choice is yours!
What about handling fees?
All group sales are subject to an $8.50 transaction fee for the entire group purchase. However, each ticket purchased is subject to NC sales tax of 6.75%.
---
But there's more to enjoy...
Harmony Gifts: Don't miss the chance to shop at Harmony Gifts, located at the main entrance to Whittington-Pfohl Auditorium. Fondly recall your BMC experience with our signature apparel, hand-made jewelry, music-themed items, picnic accessories, and more!
Overture Magazine: Enjoy a complimentary issue of BMC's Overture Magazine — our exquisite color publication filled with an entire season's worth of concert information, program notes, artist photos and biographies, and festival highlights.
Pre-Concert Experiences: To enhance your learning and enjoyment, come early and attend BMC's FREE Pre-Concert Talks or PreConcerts, which begin one hour prior to most performances.
Group Receptions: For groups of 40 or more, consider reserving a space for a pre-performance reception at BMC. Rental spaces and associated pricing are available upon request. If needed, BMC can provide recommended caterers for your reception or special event.
Restaurant and Lodging Options: There are many superb restaurants and lodging options within a short driving distance of BMC. Please consider patronizing these local businesses — all are proud supporters of Brevard Music Center.
BMC Concessions: Bring your own picnic, or take advantage of BMC's food and beverage concession stands — conveniently located near Whittington-Pfohl Auditorium. A full assortment of beverages are available for your enjoyment including wine by the glass, local craft beer and hard cider, soft drinks, bottled water and coffee. Refreshing desserts — like crowd favorites Kiwi Gelato and fresh baked cookies — are offered as a delightful finish to your BMC experience.