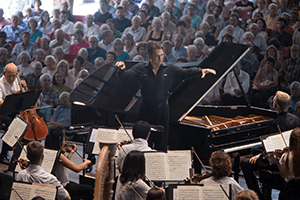 Brevard Music Center Summer Festival
We've set the stage for an inspiring summer of music at Brevard Music Center, one of this country's premier summer music festivals and institutes!
Led by Artistic Director Keith Lockhart, the Brevard Music Center summer festival provides audiences with an exceptional array of performances by gifted young musicians and some of the most celebrated names in music – from classical superstars to pops, classical guitar and jazz legends, to acclaimed R&B and bluegrass artists – at our lakeside home in the beautiful Blue Ridge Mountains of North Carolina.
Bring your friends and join us lakeside, share a picnic on the lawn and under the stars, or relax in an intimate music hall. But don't miss a moment of an incredible summer music festival that offers eighty performances and events – something for everyone!
For additional information regarding season performances, ticket purchases, box office hours, group sales, and more, please visit our festival page.