BMC Community Concert Series – December
---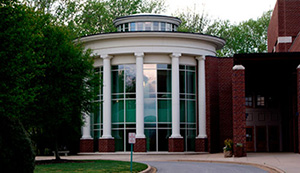 First Mondays Concert Series
December 3, 2018 at 12:30 p.m.
Porter Center at Brevard College
---
Program
Henning Schröder, saxophone
Gerald Noble, percussion
SCOTT Nemesis
SCOTT My Mountain Top
SIMON Step Inside
PETERSON Duo for Saxophone and Percussion
ORFALY Five Pieces for Solo Timpani
LANG Anvil Chorus
---
Charity Partner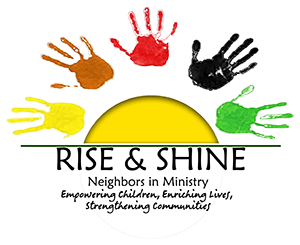 For our First Mondays series in Brevard we are proud to partner with local charities to highlight the challenges and needs facing our entire community. December's charity partner is Rise & Shine.
Something great is going on here!
For more than 20 years, the Rise & Shine year-round after school program has been helping economically disadvantaged and racial minority children learn – about the fundamental importance of education, about their community and culture, and about themselves.
Since our founding, we have continued to emphasize social justice and racial harmony through a variety of educational efforts. By working together in an atmosphere of respect and an environment in which differences are embraced, the scholars, staff, and volunteers all discover – for the first time, in some cases – what it is like to develop close bonds with others from different backgrounds. Nowhere is this more apparent than in the easy and open friendships that develop among the black, white, and Latino children served by the program. Seemingly color-blind, the youngsters study, learn, and play together, relating to one another as family.
Our approach is founded on teamwork and collaboration. The board of directors and staff work together to establish and maintain a blueprint for helping our scholars succeed, both in the classroom and in life. Our wonderful, dedicated volunteers give tirelessly of themselves to teach and coach and support the children they tutor. And parents, grandparents, and guardians reinforce these efforts. Together, we are breaking down barriers and building community.
To learn more, or to make a tax-deductible donation, please visit riseshine.org.
---
Henning Schröder
Saxophonist Henning Schröder has performed at major venues throughout Europe, Southeast Asia and the United States, both as a soloist and in groups as diverse as the Berlin Philharmonic Orchestra, Max Raabe & Palast Orchester, and Opus21. As baritone saxophonist of the acclaimed Capitol Quartet and with his duo partner, pianist Yu-Lien The, Dr. Schröder explores both the standard and contemporary repertoire of his instrument, constantly seeking to expand it in collaboration with composers. As a performer, composer and lecturer Dr. Schröder has been featured at international conferences in Europe and the US, most recently the 2015 World Saxophone Congress "SaxOpen" in Strassbourg, France, and the 2016 Biennial Conference of the North American Saxophone Alliance in Texas.
Beginning with his tenure at the University of Pelita Harapan in Indonesia, Dr. Schröder has developed a research interest in ethnomusicology, particularly focusing on the use of the saxophone in diverse music systems. His contributions to the 2014 book "Saxophon – Ein Instrument und sein Erfinder" reflect his broad interest in the history and diversification of the instrument. Moreover, he has devoted himself to the development and promotion of extended techniques, as they are frequently found in the modern repertoire of the instrument, such as circular breathing or slap tonguing. Through lectures and presentations as well as the composition of etudes, Dr. Schröder attempts to convince both performers and audiences of the saxophone's countless colors and effects.
A dedicated pedagogue, Dr. Schröder serves as Assistant Professor of Music at Ohio Northern University, where he teaches saxophone, chamber music, music theory and music history. His five degrees in saxophone performance and saxophone pedagogy include the terminal Konzertexamen from the University of Arts Berlin as well as a Doctor of Musical Arts from the University of Illinois, where he worked with Johannes Ernst and Debra Richtmeyer, respectively. Additional mentors include Trent Kynaston and Chip McNeill.
---
Gerald Noble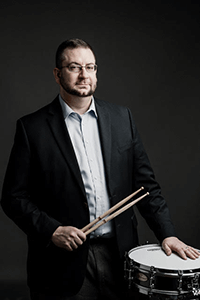 Jerry Noble is Director of Percussion at Wright State University, member of the Dayton Philharmonic, a Cedarville University faculty member, and performs regularly with his pop/jazz group "Moment's Notice." Jerry has performed throughout the US to include Hawaii, Alaska, and the Virgin Islands and has toured throughout China, performing and teaching. Previously, he was a member of the USAF Band of Flight where he performed over 1,500 concerts throughout the Midwest with the Concert Band, Brass Quintet, and Jazz Band; including performances for presidents, vice presidents, and other heads of state.
He performs regularly with the Cincinnati Symphony/Pops, Louisiana Philharmonic, Fort Wayne Philharmonic, Cincinnati Chamber Orchestra, Alabama Symphony, and the Indianapolis Chamber Orchestra. Jerry has been guest principal timpanist with the Cincinnati Symphony, extra timpanist with the Indianapolis Symphony, and has been guest principal timpanist with the Hunan Symphony in China, Alabama Symphony, Indianapolis Chamber Orchestra, Fort Wayne Philharmonic, West Virginia Symphony, and the New Mexico Symphony. While a graduate student at Indiana University, Jerry served as principal percussionist of the Owensboro Symphony and the Columbus (IN) Philharmonic.
As a chamber musician, Jerry has collaborated on projects with Bob Becker, Mike Burritt, Sō Percussion, and with members of the Cleveland Orchestra, Boston Conservatory, Indianapolis Symphony, and the Cincinnati Symphony. Jerry regularly performs on drumset and percussion for musical theater, including national touring Broadway shows. He regularly presents clinics and performances at other universities and Days of Percussion. He has also toured the Caribbean as a drummer for Princess Cruises and has served as percussion staff/arranger with the University of Cincinnati Bearcats Marching Band.
Jerry has enjoyed working with some of the world's finest conductors to include: Paavo Jarvi, Louis Langrée, Michael Tilson Thomas, Leonard Slatkin, Eric Kunzel, Ludovic Morlot, Jahja Ling, Jun Markl, Giancarlo Guerrero, and has performed with Sir James Galway, Janos Starker, Eighth Blackbird, and Dr. Maya Angelou. Recording credits include the Cincinnati Symphony, Fort Wayne Philharmonic, USAF Band of Flight, the Dayton Philharmonic, and he recently recorded works by Steve Winteregg (Cedarville University composition faculty) with Wright State trumpet professor Dan Zehringer through PARMA Recordings.
Jerry has earned degrees from UC-College Conservatory of Music, Indiana University, and Cleveland State. He has studied with the members of the Percussion Group Cincinnati, Gerald Carlyss (former Philadelphia Orchestra Timpanist), Tom Freer (Cleveland Orchestra Percussionist/Timpanist), and Kenny Aronoff.
Jerry Noble is a performing artist/clinician for Zildjian, Pearl/Adams, D'Addario & Co. (Pro-Mark and Evans), and he is a member of the Black Swamp Percussion Educator Network.